The Device Chronicle interviews Siddhartha Kulkarni, Engineering Leader, Decarbonisation and Smart Assets, Ports and Containers at global logistics leader Maersk about IoT logistics.
Based out of Copenhagen, Siddhartha is currently head of a technology function which delivers digitalization and decarbonisation of Maersk's assets including IoT logistics. Siddhartha explains that Maersk is being transformed from a shipping organization to being a logistics organization in something he describes as a "from factory to door" paradigm. "The transformation is beyond the core vessel and core water boundaries all the way from the factory floor to the front door of the customer. This includes the factory logistics, e-commerce logistics, warehouse, terminals and containers."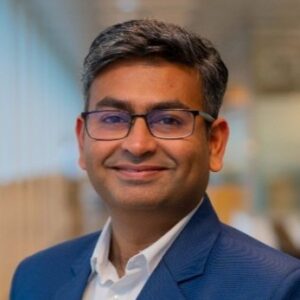 Siddhartha's group primarily focuses on the decarbonisation and digitalisation of the warehouses and container assets. He says " There are many digitalization solutions that have been integrated with data from the warehouse control systems, the conveyor belts and other equipment. Additionally, there is a lot of automation and digitalization happening in the warehouse sector where a lot of additional sensors are being placed to monitor the condition monitoring of the conveyor belt motors and other equipment." Furthermore, Siddhartha explains, there are also initiatives to deploy automated vehicles, drones and robotic arms to help automate the work of sorting, picking and placing packages within the warehouses. "Digitalization means collecting the data from all these different sources and bringing it into the central landscape and creating value from visibility. It provides a global view of warehouses and assets performance, and then using AI and ML analytics to take it to the next level – an integrated view to ensure all operations in warehouses and terminals are optimized." Then there is the optimisation of the vehicle machinery – the cranes, tractors, containers: Devices are used to track them and condition monitoring is used to anticipate and prevent equipment failures.
Advance of machine learning models in IoT logistics
Siddhartha explains that machine learning models are also being applied to the operational processes at Maersk:
There are two key themes in this regard:
1) The partner OEMs (who work with Maersk) collect data from machinery and models are applied.
2) Maersk teams collect data into the cloud and apply their own models.
Siddhartha explains that Maersk is one of the world's largest consumers of refrigerated containers and therefore is best placed to do the analytics itself.
Siddhartha provides a case example: a moving refrigerator container has a temperature variation, and then based on this temperature variation and other sensoric variables, his group tries to predict whether there could be failures in the machine. Maersk can do this as it has the data on failures and repairs, the OEMs do not have access to this data. "Maersk can know if its container is failing, and the repairs being done, and there are many feedback loops to understand what is going on. Video analytics are being used to predict jams on conveyor belts or looking at the behavior of the machine to predict if a new part is needed for that machine."
Often the OEMs can do analytics for devices such as the cranes, and this creates collaboration opportunities when joined up with analytics from other sensors in other places.
IoT device management and IoT logistics
Siddhartha says IoT device management is a complex and often challenging domain: "IoT devices are use case-driven and there are many times legacy solutions. Some are Linux-based, some are RTOS-based."
At Maersk, Siddhartha explains, Azure DPS is used for device provisioning, authentication and authorization.
When it comes to the deployment of new firmware, Siddhartha explains, the process varies by device type and their age. "Some older devices get a command over TCP and then they initiate an SFTP connection to an SFTP endpoint, access the file, download the file and then they start the installation." In other cases, it is more modern and is conducted through different secure protocols through the direct cloud integrations. 5G wireless connectivity is also becoming increasingly important on the terminals.
Siddartha admits that IoT device management is an area for improvement for Maersk as in many cases 3rd party vendors have direct access to the devices. These vendors upgrade the software and firmware and this can be inconsistent with Maersk's security policy. Siddhartha explains that this is a legacy challenge and qualifies this by saying "We (Maersk) try to ensure that even if it is a vendor-driven solution to upgrade the firmware, that it is deployed from Maersk's cloud infrastructure and that the device can only connect to the Maersk cloud and nowhere else in the World. This is how we try to improve it."
End to end software deployments on vessels in IoT logistics
Siddhartha explains that for vessels, end to end deployment of software image updates at scale with the "click of a button" has been realized. In a fast evolution, the updating process has gone in 5 years from a process where USB sticks for 400 vessels were needed, to a situation where a copy of software was copied into 400 folders and then replicated to folders on the 400 vessels and then being pushed to the devices; and now it had evolved that it is fully automated, deployed and executed end to end from the CI/CD pipelines.
For other IoT devices not on the vessels, the situation is different. Firmware development is done by the vendors and then they provide Maersk with the software which they then upload into the repository and then click a button to enable update deployment. In many cases, these are completely proprietary softwares so they cannot be integrated into Maersk's CI/CD pipelines.
Delta updates in IoT logistics
On Reefer containers, the full software images can be 1Gbyte in size so delta updates are useful in this regard. Two years ago, a project was completed with Microsoft to capture the delta of the binary for image updates.
Warehouse optimization
The warehouse is an exciting space. Maersk has acquired some large warehouse providers so now has up to 500 warehouses to manage. Siddartha says they want to find out the best opportunities for digitization and automation in these warehouses where so much is currently manual.
Decarbonisation
Decarbonisation is also a huge focus. Siddhartha explains that this entails electrification of the cranes, tractors, forklifts and other moving machinery and vehicles; and optimisation of the energy usage in a terminal, warehouse, cold store, or by a reefer container. Maersk wants to be fully carbon neutral by 2040 and are using scientific targets for year on year reduction and also working on "big opportunities" to completely decarbonise. Siddartha concludes "We want to use data to do analytics to optimize energy consumption because green energy will be more costlier so we want to keep our operational costs to the same level as with "black fuel". To do this, we need to ensure that our consumption goes down with smarter ways of digital management."
We wish Siddhartha and his colleagues at Maersk well as they continue on their journey to decarbonisation and digitalization.