Based on AI and OTA software updates, Mona is bringing advanced medical consultations through telemedicine to hospitals and clinics in the outer regions of Europe. Dr. med. Arne Peine, MHBA is the CEO of a company called Clinomic. Spun out of the university RWTH Aachen, this company is leveraging the leading edge of AI and telemedicine to respond to the Covid-19 crisis by delivering remote accessibility through a telemedicine device and platform. The platform is called Mona and it helps deliver the highest level medical expertise to the frontline of the battle in rural hospitals on the periphery and outer islands of Europe.
Pain points before telemedicine with AI
Before founding Clinomic in 2019, Dr. Peine spent many years as a medical doctor and intensivist working in one of the largest intensive care units in Europe in Aachen itself. Here he was drawn to the fields of the digitalisation of medicine and telemedicine; and also encountered the problems of what was at times a shortage of expertise at the bedsides of the patients; and data density and information overload making decision making very difficult. Dr. Peine explains that "1000 data points per patient per hour are generated in ICU and this is an enormous number for trained medical professionals to try to handle and get key insights from. From the administrative burden, doctors and nurses spend approximately 50% of their days sitting in front of computer screens instead of spending it with patients. This is clearly a disaster when you think of the shortage of trained specialists at the patients' beds. It's also something that is completely avoidable through the application of new technologies."
Mona telemedicine was born
Dr. Peine and his colleagues started to try to address these problems through applied AI and custom hardware design. They had the experience and know how having been involved in providing telemedicine to 200 hospitals in Western Germany. But in this project they already discovered that much of the hardware and software being used for telemedicine was not optimal and really designed for it. Dr. Peine formed a research group focussed on applied AI in medicine, to bring innovation to improve the treatment for patients. Out of this the Mona device was created as an "Alexa with a PhD". It is a bedside device based on custom hardware, and it is mounted next to the patient's bed. It applies state of the art algorithms to facilitate the daily workflow of the doctors and nurses. Speech recognition and speech interfaces are used with an Nvidia GPU, a state of the art 180 degree camera, microphone array for crystal clear speech recognition, and ability to communicate in very loud environments, 5G connection, and a radar sensor to monitor heartbeats wirelessly. Dr. Peine stresses "We use the newest technology, and it is one of the most modern medical devices on the market."
Covid-19 crisis
The Mona device was developed in 2019 before the Covid 19 Pandemic announced itself to the World. Inadvertently the crisis has created great demand for telemedicine. Rural regions need high level medical expertise urgently and the European Commission mandated that advances in telemedicine systems be used quickly to deliver the required high level expertise remotely to rural hospitals in 8 countries including the European outer regions. Dr. Peine explains "They have hospitals but are short on doctors."
Rapid roll out of telemedicine
In order to timely deliver and assure a high quality product, Clinomic partnered with Mender to help keep the devices up to date with OS, application and security updates, and also ensure that the devices would not fail in the event of a intermittent power loss and get corrupted in the middle of the updating process. This is the so-called bricking of the device. For these reasons, Mender was selected as the only way to deliver a good product in a short period of time.
What does telemedicine entail?
Telemedicine means an audio-video connection between the bedside device at the patient's bed and a secured remote device in a remote location, it is an encrypted peer to peer connection over web RTC and handled in a way to make the connection seamless. The devices are integrated into the hospital's infrastructure so we aggregate lab value, vital signs, radiology images into the device and the consultant can access these datas from within the device during the telemedicine consultation. For example, where a COVID-19 patient which is very difficult to treat in a hospital bed in a remote location, the local doctor may have to connect with a higher level consultant in an expert center, they in turn can connect securely through the device and see both the local attending bedside health professional and the patient, and see all data, see the current ventilation parameters and the current blood gas levels of the patient and give educated advice. This is a resource simply not available in these peripheral locations, so the expert hubs are connected to the remote locations at times when most needed at nights and at the weekends.
Leading edge AI technology
Users can interact with the Mona device in an intuitive way. The user can speak to this AI-empowered device and it replies to them through powerful speech recognition using natural language processing. The speech recognition can be used by the clinicians and nurses for documentation. There are also algorithms that reduce the data density to the number of relevant points in a particular situation by up to 90%. Dr. Peine points out that "The doctors get to the absolute essentials, reducing the data to the bare essence of what is most important."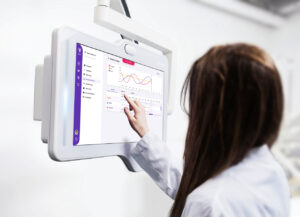 Aside from prediction, another algorithm in Mona helps with demographic coupling and analysis. For example, natural speech can be converted into SQL, so patients with instances of haemoglobin levels below a certain level and admitted from last week let's say the City of Cologne can be tracked easily. Key insights into trends like this can be easily extracted from within the data.
Hospital IT challenges
Dr. Peine points to the challenges of working with hospitals that have high IT and security requirements and often low levels of IT and system administration support. "The network configuration of the hospitals is very difficult as it is very heavily protected and has very limited local capabilities of IT and system administrators."
There are hundreds of devices in different locations and this makes it very hard for us to control all these different infrastructures. Dr. Peine explains that the easiest way would be to use SSH on all devices and execute all the software updates but this is impossible as you cannot interfere with these devices during a treatment of a patient. The hospital IT will not allow it. So Dr. Peine and Clinomic looked for a specific solution that would enable them to push OTA software updates in a controlled manner, from a server to control which device has which software and to give the hospital users the ability to set the times when it's optimal to execute the software updates. Clinomic looked to Mender for this, as it would "not be efficient for them, now would they have the expertise to develop this capability in house. It makes much more sense to partner with a best-of-breed company who has built this already. You also need to ask the experts who have gone deep and can help you set up OTA software updates properly. We have to set this up once quickly and get it right."
Cultural challenges
OS updates, application updates and security being delivered to the devices with Mender. The OTA software updates and device fleet management must run seamlessly in the background and there must be no interruption to the clinician or nurse who interacts with the connected device. Dr. Peine explains "The end user sees and compares us to consumer hardware. Medical devices are viewed like high end consumer devices. You need to provide high levels of comfort and in general, doctors have low interest in the technology under the hood of the systems. They just want them to work like an iPad. They don't care about how the software update works, they just want to update correctly."
Security for both hardware and software is also critical for the management of the device and its updates and remote control. Security is a huge concern for hospitals. Mender provides control over the updates of a very critical fleet of IoT devices. He concludes "He can sleep well knowing that a critical patch can be delivered to the device from afar and there is no need for our support team to call 45 IT departments in the hospitals. Mender is the only solution to this."
We wish Dr. Peine and his colleagues at Clinomic great success in using AI and IoT to combat the scourge of Covid-19 and get better care to patients in general.
Codestryke has also been supporting the delivery of this IoT solution and its CTO Benedikt Miller talks about IoT strategy.