The Device Chronicle interviews Ohad Yaniv, CEO of Variscite on embedded SOMs (system on modules) and use cases.
Thanks to Ayelet Oz, Head of Marketing, Variscite, for arranging this executive interview.
For nearly 20 years, Lod, Israel-based Variscite has been developing, producing and manufacturing a powerful range of System on Modules, consistently setting market benchmarks in terms of performance, price and innovation. The company's portfolio is based on leading SoC (system on computer) vendors
including NXP, Qualcomm and Texas Instruments. Variscite's solutions make up the embedded hardware that enables many industrial IoT use cases / applications across industries. Experts at the company have developed end-to-end solutions that deliver technology capabilities across a unique range of industries,
including medical, agriculture, automotive, control systems and multimedia.
Ohad Yaniv is a computer scientist by training with extended education in business management. He joined Variscite 12 years ago and under his watch, Variscite has developed into a powerful player in the embedded world delivering robust and reliable technology solutions to device developers. So much so that it is recognized by industry giants – for example, the company is the only SOM vendor that is a platinum member of semiconductor maker NXP's partner program. The close partnership between the companies has developed over the last 10 years and allows Variscite early access to NXP technology.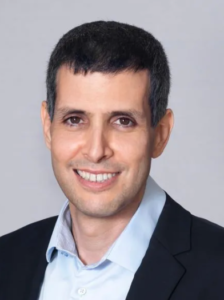 Strategic importance of integrated connectivity
Ohad explains that from day one, Variscite has identified connectivity as a key strategic driver and tried to incorporate communication channels into its products from ethernet to Wi-Fi, and they did this early on, more than 10 years ago. Ohad said "We realized that connectivity was going to be central and devices
would interface with the Internet and internal system networks. We see today that industrial applications are getting more connected, coffee machines have video displays with updated commercials and this is true for all industries." He continued to say that strategic partnership for overall solution delivery is also
very important for the company – "We partner with 3rd parties that can provide management capabilities such as OTA and device management to complement the network device infrastructure that we provide. More and more industries are connected 24/7 so they must be secure and robust."
Short supply and high demand
Ohad explains the current crux in the IoT / Embedded industry: Demand is high for connectivity and complex devices based on NXP's iMX platform, but the counterbalance and result are supply chain and chip shortages. Ohad further explains that Variscite entered the chip shortage crisis with good starting condition thanks to what he describes as a dynamic procurement strategy with good buffers for most components, 6-12 months. He admits that for some components, there were shortages where modifications had to be made to the product. He says "The ethernet controllers were in short supply as one provider stopped supplying for 8 months. We had to revise the product with a different component from a new provider to restore immediate deliveries for high volumes. It was an effortless issue for the customers as they got validated hardware and a software patch for uboot in the kernel. All the OSs were also updated to support the customer." Ohad also says that It has been a challenge for the operation to compensate for the irregularities of deliveries but we were able to overcome this challenge thanks to our in-house assembling that allows high volumes to be handled. Variscite launched a new production line which increased in-house manufacturing capabilities at its production and warehouse facilities to help bypass the component crisis due to the impact of COVID and supply chain challenges. The company last placed a new line into production a year before, making this the second production increase during the pandemic. The new internal production line is fully operated and ensures delivery times as fast as four working days for evaluation kits. The company's in-house production facilities are equipped with the most-advanced Surface Mount Technology (SMT) machines, ensuring high-quality Modules and a wide range of configuration choices for every SoM. In having established its own internal production lines, Variscite retains better control of lead times during both normal operations and during challenging time periods, such as the current worldwide component supply crisis.
Use cases across industry
Variscite has a wide customer base in medical devices so they are certified for ISO 13485 which is required for FDA approval. The growth of this market was enhanced due to the immediate need for ventilation and covid test systems. Access control, aggregation devices and point of sale systems all have complex interfaces so they need embedded Linux and SOMs. Variscite provides extensive support from early project stages up to the end product's launch with the complementary services of ecosystem partners to allow customers to focus on the IP and not be worried about the infrastructure.
Importance of OTA software updates
Ohad observes that more and more customers are looking for device management solutions for firmware updating, telemetry and software patches. "Most devices have only become connected in the last 3-4 years and we are only seeing a small part of the potential. 20% of customers are updating devices remotely or concerned with security issues. 50%~60% of customers order SOMs with wifi modules and these numbers have increased from 30% a few years ago. Once you get more device connectivity, you need secure patching and security, embedded devices will need over the air software updates. It is inevitable that this will happen."
We wish Ohad, Ayelet and the team at Variscite well and look forward to helping them develop the IoT and connected devices ecosystem.