The Device Chronicle interviewed Kevin Rohn, IT Software Developer at IoT automation company Pfänder GmbH on the latest trends and their vision for using IoT and OTA software updates to improve building automation.
Kevin begins this interview by describing the challenges faced in traditional building automation. He says that in classic building automation as we know it today, there is a central control cabinet from which cables run in a star shape to each individual sensor or actuator. This means that cables are laid for miles. Each connection is elaborately wired, and the control cabinets are individually manufactured. This is time-consuming, error-prone and cost-intensive. The many cables that have to be pulled also require a high degree of coordination and often lead to chaos.
This situation often leads to planning changes and delays on the construction site, which often pushes up the construction costs. Due to the increasing digitalization of buildings, projects are also becoming more and more expensive and complex. In the classic installation form this means even more cabling effort. In times of shortage of skilled workers, this situation leads to further capacity bottlenecks and delays on the construction site.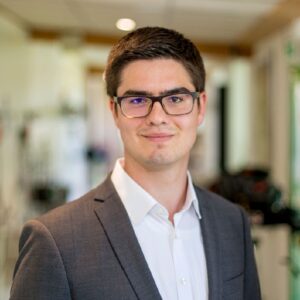 Kevin and his colleagues at Pfänder came up with a new way to address this challenge. They created a vision of a decentralized installation system for building automation. Their innovation is a system-independent installation system for HVAC companies who want to implement fast and efficient building automation and are looking for more control, security, and more possibilities at lower costs. The result manifests itself in the PowerIO box solution.
Key trends in building automation
Next, Kevin describes the key trends in the building automation sector. He says "customers expect products to be easy to use and modular. In building automation there are many different sensors and actuators. In heterogeneous building infrastructure, these devices have different protocols such as Modbus, BacNet and so on. Before there were simple sensors with analog input and outputs. Nowadays also in building automation, those devices are further developed and expanded with more data points."
Kevin continues to say that this trend brings further challenges for system integrators, which can also be seen as a great advantage, because now, for example, a pump provides further data that can be used for energy monitoring.
Importance of IoT device management in building automation
Next, Kevin shares his thoughts on device management. He says this is an important aspect in building automation as there is a long product lifetime cycle for every project. It is vital to ensure that every device is running in stable mode. If there is a failure for one device we can act and just replace the device with a backup device. We manage our devices locally to respect the customers' privacy of building data. Kevin and his team use the local Mender standalone client API to get information about the device, like the current running version and so on.
Importance of OTA software updates in building automation
It is very important that updates are supported to keep the devices up to date with the latest software versions. Kevin and his team must also support the most used protocols in building automation. protocols that need OTA support include OPC UA. Enocean energy harvesting wireless technology is another important patented technology that needs OTA support. Robots and secure OTA software updates through Mender enable them to bring a product to market as quickly as possible without having to support all the necessary protocols from the start. This means that the most used protocols can be integrated at product launch, and we can add more protocols later for resource reasons, benefiting both the customer and the building operator. Kevin concludes by saying that "This keeps our options open for the future without the customer having to make new investments in hardware."
We wish Kevin and his team well as they continue to provide best of breed building automation solutions based on IoT.