The Device Chronicle interviews gridX Managing Director (MD) & Chief Growth Officer Tim Steinmetz on platform-as-a-service for energy management.
gridX offers ​​the IoT platform XENON as platform-as-a-service to connect, monitor and control distributed energy resources (DER) – from wallboxes to batteries, PV modules to inverters.
Tim Steinmetz is MD and responsible for growth at gridX. Tim has extensive experience in the energy industry, having looked at CO2 trading, and how to optimize energy portfolios. The topic of using energy "flexibility" to enable the upcoming energy transition was a key trigger for Tim in his career and he wanted to implement flexible solutions for Europe's most significant energy providers, using the flexibility of production lines to reduce energy consumption. At Entelios, he worked on demand response as a service; then he moved to gridX to connect millions of devices on the low voltage level. Tim says "the team has the technology and skills to realize this potential." Tim now manages the go-to-market for gridX's platform, assesses the regulatory environment, and understands the ideal customer profile to get an optimal product-market fit.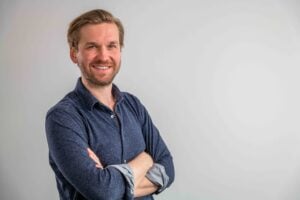 Platform-as-a-service
gridX offers Platform-as-a-service to large energy utilities, charge point operators, PV installation scale-ups, and automotive OEMs. As these customers scale, the platform-as-a-service scales. Tim's growth department supports partners' sales, customer journey and success, and also looks after general operations and marketing.
gridX offers a platform for building and scaling energy management solutions: Tim says large enterprises have a choice; they could build in-house or go for the "build with" approach with a best-of-breed partner. Large customers, such as ChargePoint, have built solutions with gridX's platform. Still, expansion into new markets – new countries with local regulatory requirements and unique user needs – creates further complexity as the core product must be designed to meet these local needs. gridX can take the complexity away: for ChargePoint, gridX provides a local edge gateway called the gridBox to read out meter data from the customers' grid connection points in real time. This data is then transferred to ChargePoint's own backend to dynamically adjust the chargers' power consumption. With this use of dynamic load management, ChargePoint can dynamically adjust charging flows in response to the location's real-time building load to avoid grid overloads, while also making full use of the available capacity for charging. Through this maximization of power usage without breaching grid limits, more charging stations can be installed and operated at a single location with limited site power capacity.
The customer and market requirements shape the solution. There is a residential energy management use case in Belgium; Tim says "you can combine the control of PV inverters, batteries, heat pumps, and EV charging wallboxes and have use cases such as fuse protection, as a household's fuse capacity is low in Belgium, comparatively speaking. You can do solar charging, so using PV surplus production to power the wallbox so you can drive green. You can use time of use tariffs to ensure the battery recharges at low-cost times at night. You can also leverage dynamic prices according to grid capacity; this use case needs local control in combination with optimization from the cloud backend. gridX brings this all together and makes it scalable for the customers."
gridX is rolling out a solution internationally with ChargePoint. Tim describes the project: "we measure every grid connection point or sub distribution in real-time and bring it via an IoT device into our platform XENON. We then transfer it to the ChargePoint backend so they can deploy a specific control logic like dynamic load management for their solutions at their locations. They can build up their IP and use their expertise to develop their own solution: XENON's modular set-up provides maximum flexibility to develop a tailor-made energy management system according to country-specific requirements, offering additional modules at any time, for example to enable dynamic tariffs or peak shaving."
In e-mobility, the typical device fleet size per gridBox depends on the business model: there are high power charging stations with 4-12 points per location, where operators try to build up the perfect network of charging infrastructure to cover the busiest areas. Charge point operators focusing on multi-family homes mostly operate 4-20 charge points at one location, and use load management to distribute and manage energy flows of mainly slow chargers, each with up to 11 or 22 kilowatts.
Tim says gridX's strength is keeping the solution scalable, preferring to roll out 80% of capabilities to 100% of the sites – regardless of their size.
Device lifecycle management
Device lifecycle management always starts with commissioning, sending the gridBoxes to the B2B customer, and then they bundle this in the solution they sell to their customers. The gridBox is commissioned with the other equipment, the latest software package is installed, the grid box is connected – usually via a router – allowing the monitoring and controlling to start. How the individual logic works depends on the specific use case. The significant advantage is that the OS, apps, and cloud backend are managed remotely by gridX; the customer does not need to deploy an on-site engineer. Continuous improvements are made across the different layers. Tim concludes, "we advise starting simple with IoT infrastructure and building it up over time. Regulation will require innovation, and new use cases, such as bi-directional charging, will enable new value to be created, and this will need device management. More innovation is coming, which requires regular software updates: "Bi-directional charging will help with flexibility – discharging energy back from the cars into the wallbox returns power to the home or grid – enabling lower costs and increased self-sufficiency."
gridX is using Mender for over the air (OTA) software updates, this article describes the use of dynamic load management and how software updates play a key role.