The Device Chronicle spoke to Richard Earl, who is the R&D Director at EO Charging, about building EV infrastructure and value added services on top
Richard Earl is the R&D Director at EO Charging. Richard is a very experienced engineer and program manager. He brings all his skills and experience to the table at EO Charging to develop innovative EV infrastructure products and services to fulfil the electrification needs of both business fleets and residential customers.
The EV charging infrastructure domain combines every single discipline of engineering in one: from the chemical engineering in the battery technology, electrical engineering in high power distribution, electrical installation works, to the power electronics inside the the charging stations to manage high power current flow, the IoT microcontrollers in embedded systems and IoT connected to back office systems, cloud based servers and databases, ML and APIs into the 3rd party applications, and even mobile phone applications. EO Charging's technology stack combines all these elements. Richard explains that cloud platforms and applications are developed with the Microsoft toolset, embedded microcontrollers in EO charging devices run on C, Python is used in some parts and C Sharp runs the servers. Richard continues to say that "It has been refreshing to use everything from across my engineering career and bring it to my role in EO Charging."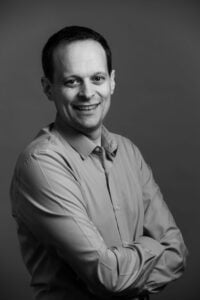 Trends in the EV infrastructure market
Richard provides some broader insights on the state of the EV market. The EV infrastructure market is at a point of inflection where we are coming to the end of the first generation systems. He states "We are beginning to see the first players consolidate their market position and the first generation vehicles are beginning to mature. Now the second generation vehicles are emerging and with it, the mass uptake of product and charging stations. People expect to see charging stations at their local gas stations or on a motorway service station. They are expecting to be able to charge at home and at the workplace."
Second generation EV infrastructure is here
The second generation vehicles with larger batteries and a variety of technologies for charging. Furthermore with the next generation vehicles, the EV architecture uses 800 volts rather than 350/360 volts. This means you can put a lot more power into the vehicle much more quickly. Richard provides an example: with the Porsche Taycan, you can put 350 kilowatts of power into this vehicle in just one hour with the latest chargers. This is an enormous injection of power in a short space of time.
Protocols dictate in EV infrastructure
The other accelerator in the second generation is the ISO 15118 protocol for the charging station for the vehicle. This allows for increased communication between the vehicle and the charging station. The new generation charging station works off a full IPV 6 connection to the vehicle and you can get a lot more information out of the vehicle. As a result, Richard believes we will see a whole new raft of services including bi-directional charging and plug and play charging.
Key drivers for EV adoption
The political side is important as a driver but it is only one of several drivers working in tandem. Richard describes how well structured government grant systems and tax rebates are driving the uptake of EVs and encouraging investment in the infrastructure so you get a virtuous circle. Norway stands out in this regard.
A second driver is that the technology is also getting better. Charging rates and battery technology is improving. Richard says "When I first started we were looking at a battery capacity of 20 – 30 kilowatts per hour but we are now up to 100 kilowatts per hour." The products that are being developed are excellent. Consumers can now connect the dots and that if they are doing an average of 50 miles of driving per week, EV is the right option for them.
Finally there is the moral driver of environmental awareness with technology and government momentum behind it. Customers can easily see the benefits of electric vehicles unlike smart meters which are not really properly understood. Every country is taking this seriously. The UK innovation fund has been running for over 10 years as a mechanism to push green technology.
EV infrastructure strategy and vision
Richard describes the vision and strategy of EO Charging. He begins "EO Charging wants to be the market leader in fleet charging, helping companies to electrify their fleets. There are many different fleets that EO Charging can support. You could have a large depot of 50 vehicles charging. Or in another scenario, a fleet of vehicles could travel an average of 100 – 150 miles per day and need to charge on route. To do this they would need access to public charging stations. A third possible scenario, a company may have a fleet of small vans that need to charge at the employees' houses, so the company needs a system to reimburse the employee for this.
EO Charging wants to be able to offer business customers a suite of charging options from commercial depot charging, residential charging to public highway charging. The goal is to provide a full turnkey solution as a charging partner so the customer can focus on their core business.
Getting customers into full electrification is, in Richard's estimation, a two stage process:
Stage 1: EO Charging can help an organisation to electrify their fleet so to work out where the sites should be, get the unit installed and manage the grid connections. EO Charging also helps an organisation to get the fleet users up and running. Then it provides authentication services to help guide the users on which chargers they can use.
Stage 2: EO Charging also thinks about how they can help customers to save money, to manage their fleets more effectively, even integrating with route planning software to work out how to charge a vehicle at the cheapest rate, and solve problems through clever integrations through first party and 3rd party software.
EV infrastructure use cases
EO Charging has a range of customers. In the fleet environment, there would be a system of connected charging stations connected to EO Charging's back office. Armed with a mobile app with different configuration possibilities, a driver could arrive at the site, plug in and simply charge. In another scenario, authentication could be configured so only certain drivers could charge. For example, a fleet manager may want their employees to charge for free, but neighbouring drivers to pay for access at a company charging site, or maybe have them pay by time or by amount of energy consumed. There is great flexibility in what is possible.
Importance of load management
EO Charging also offers fleet managers a load management system that measures site supply and distributes the available energy amongst the vehicles. Richard explains that in an example, you might have 100 amps incoming supply, with a vehicle charging at 32 amps. Without load management, this would mean that a maximum of 3 vehicles could charge at once on a site with only 4 amps available for the office. The load management allows for better management of these types of scenarios so the site fuse doesn't blow. With load management in place, a much larger number of vehicles can be charged simultaneously on the site with plenty of power available for the office.
Residential services
EO Charging has taken its fleet management technology and ported it to the residential environment. Richard explains "We have a residential charger that you can have load management on. The user can set schedules, including solar charging matching the output of their solar array. The charging unit can be integrated with energy suppliers, so electricity tariff can be better optimised to ensure a more balanced use of both grid energy and renewables. For example, from midnight to 4am the vehicle could charge off the grid for a certain rate then the user could set a schedule to charge from 10am to 4pm using solar power which is a slower charging rate, and also have an emergency plug in time zone between 6pm and 8pm. All of these smart schedules can be set up on EO's residential app. The residential user is the master of this app, this is my charging station and this is how I am going to use it. It is different with the fleet user. Here, Richard explains the typical user scenario is of a driver authenticating to use a charging site.
Enterprise expansion brings opportunities
EO is seeing increased opportunities to offer new services as larger scale enterprises engage with electrification. "We see new value added services around the products. We are engaging now in the planning process and the installation process. We will take ownership to ensure the site is designed correctly, electrical grid connections are made, that the site chargers are installed correctly and operational. Once all of this is done, then we can hand it over to the 24/7 service team so they can actively monitor the sites, make sure the vehicles are plugged in and charging, for proactive alert and maintenance services on the sites to ensure that the vehicles are full and ready to deliver the next day."
UK grid well prepared
The energy grid in the UK is well equipped to handle the growing demand from EV. It has been a known problem for many years and the grid has been preparing for this. For example, there is a proposal in discussion at the moment for load control, with a randomised delay for each vehicle before it begins charging. Also Richard adds that compared to 5 years, there has been a significant increase in the amount of renewable energy available. "The UK grid is doing its part by laying down regulations and guidelines for the providers for responsible use. The government is behind this, the grid is ready but all must adhere to the regulations."
Importance of OTA software updates
In Richard's estimation, robust and secure OTA software updates are essential for EV. "This is a rapidly changing market, new vehicles and requests for features." There are 3 reasons why OTA software updating is essential for EO Charging:
It helps improve the product, fixes security weaknesses, and ensures the product is robust and secure

New vehicles appear on the market and different vehicles behave in different ways. When a particular vehicle model comes to market and has a known issue, EO may need to create a tweak in the EV charging station product to support this new vehicle. The classic example is where the driver plugs in a new vehicle but decides not to offer it a charge immediately, then the vehicle may go into a deep sleep. When the driver tries to wake up the vehicle for a charge it may not respond. The team at EO Charging may need to take some steps to help wake the vehicle up and OTA is needed for this.

EO Charging also want to be able to deliver new market features such as a new tariff from a new supplier so the customer would have access to the data to charge according to this tariff
In the end, customers install on day one, but 3 years down the line they will want fresh and innovative features. EO Charging get robustness, security and product extensibility from OTA software updates.
We wish well Richard and the EO Charging team well on their journey towards enabling full electrification.