The Device Chronicle spoke to Michael Schmidt and Carolin Richter, from Digital Production Shop Floor in BMW Group about digital platforms, embedded systems, OTA software updates and the evolving human and robot cooperation in assembly.
Special thanks go to Christian Patron, Data Leader, and Tim Holzmueller, Communication Specialist Production Network, BMW Group who very kindly organized this interview.
The BMW Group is running various factory digitalization projects. The team uses end-to-end platforms, embedded technology, fully autonomous robots, human-cobot co–operation to achieve increased efficiency and model customisation at scale in its global production network. BMW Group has annual car sales of 2.5 million units, produces multiple car models where 99% of customer orders are uniquely different from each other. With tens of millions of parts flowing in from suppliers around the world every day, this volume influx creates an immense challenge for factory logistics. The BMW Group is using robotics and AI to support this logistical challenge and to help achieve three amazing outcomes at its factories.
The BMW Group is using robotics and AI to address this logistical challenge and support three amazing outcomes at its factories:
BMW Group produces 10,000 cars every day. The company offers 40 car models with an average of 100 different options per car resulting in thousands of different possible configurations.

BMW Group's logistics takes in 30M parts per day from 1,800 suppliers across 31 factories. 230,000 part numbers are organized into trays to produce 10,000 build-to-order cars every day.

BMW Group's production line produces one car every 56 seconds. The line runs non-stop and can produce up to 10 different cars in any sequence, with parts arriving exactly when and where they're needed.
The Device Chronicle interviewed the leading experts on the project: Michael Schmidt, General Manager Digitalisation Production System – Shopfloor, and Carolin Richter, Group Leader Innovation and Digitalization, BMW Group.
Setting out the platform strategy
Michael leads the strategy and implementation of digital production in production and on the shopfloor at BMW Group. He begins this article interview by describing how the use of platforms from cloud to edge is the whole strategy for both operational technology (OT) and IT. He says that "The edge of computing is where we need to have real time communication from the robots and production units to the overlaying systems." He adds that the trend is moving to more universal production units: where there are hardware systems where the hardware skills are found, and applications where the software skills are found. Software can be much more flexible than the hardware systems.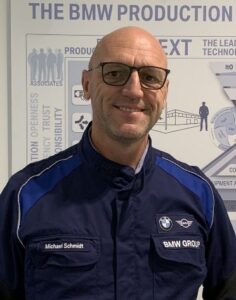 Michael continues to outline what the objective and challenge has been for his group: The objective has been to perform additional digitalisation tasks in pre-existing production units in order to increase product quality and production efficiency. This is the overlaying main goal of all our efforts. For the last two to three years, the team has been focussed on integrating new products such as digital cameras, GPUs (graphical processor units), and other small embedded devices into the production line.
Michael describes two very important things that they want to achieve: one is to perform effective central management of a large number of edge devices. This will ensure cybersecurity protection, and robust firmware patching, application patching, and finally device replacement where needed. For the latter, Michael says "The maintenance person should be able to exchange the device locally, while the software and applications configuration of the new box should all be done centrally. The application app store supplies apps to the devices. Michael adds "The edge devices connect to the peripherals and we want to establish the edge as a virtual device in the data center which is located near to the production plant."
Applications for AI
Michael continues by describing two specific applications where AI is used in BMW Group production: in the first one, there are quality checks in which a set of self-learning algorithms utilize cameras to acquire precise information on quality. This approach offers significant improvements in detail recognition, over that which can be achieved with standard picture recognition systems. The picture gets labeled, recognises different situations and light effects, and can get feedback constantly on the actual quality status of the car. The second one is for predictive maintenance where "simple" AI models are used. Michael explains that "The learning has been that if there are too many parameters in the algorithm then the goal of the use case will not be reached."
Proof of concepts & industrialisation
BMW Group is also continuously scouting for new technologies that can improve productivity and efficiency in assembly. Carolin leads a team that is responsible for proof of concepts and industrialisation. The main goal is to support the workers and enhance safety, quality and efficiency.
Once the team identifies an interesting new piece of hardware or software, they test it and assess its suitability and fit to the production system. Carolin adds that the current focus of the team is on creating platforms and self-service capabilities that help reduce the amount of manual quality checks.
Considering robots and cobots
Carolin is looking after the strategy for robots. Robots have additional requirements over "classic" edge devices yet the team still tries to integrate the robots into the same ecosystem as the other embedded devices. Carolin admits that there are additional considerations with robots and cobots in a production line and assembly. Firstly, with latency there are data transfer challenges from the cloud to the robots. Secondly, managing robots and cobots requires the availability of significant amounts of computing power. Thirdly, an understanding of the operating systems of modern robotics systems – typically based on Linux and the Robotic Operating System (ROS) – is needed and robotics IoT needs to be brought on stream. All the necessary skills to support this are required. Finally, there is the maintenance challenge where new programming languages and new hardware systems need to be integrated. This is not a "classic" production machine with SPS. The infrastructure has to be transformed and a new way of getting hardware innovations integrated into plants has to be introduced. Resources are also required to further develop software in updates and in docker containers and this is something, which Carolin says is new to BMW Group.
AI & robotics
AI is an integral part of shop floor robotics and here, Carolin explains that a combination of "classical" model-based AI systems and machine learning is used. Carolin continues to say that the approach is to look at the use case and see what is the best technology and methods to use in it. Computer vision as an example provided a great starting point. Quality assurance provided a solid use case for all shop floor stakeholders. Going forward, Carolin says the team wants to use other different sensor inputs with the algorithms to develop new improved approaches and to address more complex use cases.
Carolin and her team have a cooperation with Technical University of Munich, to make "The Factory of the Future ". In this project, they are looking to make cobots more intelligent so they learn from each other, and solve the security and safety issues that may present in production. Carolin points out that the way these issues are solved today in work safety means that the cobots need to operate and move very slowly. This is not the most efficient way for the production process. Carolin says that the team "want to achieve faster and foster closer cooperation between humans and cobots so that if the human is approaching the robot, the robot will not have to stop its process (and the production line) but gains the ability to dodge or move around the human to continue working.
BMW Group is a social company and Michael adds that occupational safety is pivotal: "Employees are the center of the assembly." Carolin adds "Some area tasks have systems of robots that are working without human cooperation." But that human and robot cooperation is the best of both worlds. "There is the precision of the human and the repeatable accuracy of the robot." BMW Group will always have people working with us, but in this there will be complete automation without humans or automation with human beings that is as secure as possible and as effective as possible to achieve pay back from the investment."
Carolin continues by describing a use case where there is human-robot cooperation today. The human staff starts the process and the robot goes around and applies the glue around the windshield. There are also scenarios where cobots are given the opportunity to learn from human behavior. There is a cobot in the cockpit pre assembly in the production line, and it goes in for 10 seconds and to fix quality issues right in the line. The robot looks at what the human is doing and to learn from that for small tasks that last from 10 seconds to 30 seconds. Carolin concludes that "There is a need to understand the intention of the human and program this into the robot and this is where the sweet spot needs to be found."
Role of OTA software updates
Software updates are performed on embedded devices and PLCs in production downtime. There are occupational safety considerations so upgrades need to be performed out of the operation times. Michael explains that there are "Systems in place to automate upgrades. The standardization of both hardware and software layers ensures they can be updated remotely." For robots, OTA updating is performed in a similar manner to other edge devices on normal production units and PLCs. "The same methodology for software management is used."
Importance of the digital twin
As there is no room for failure in production, the digital twin will be used increasingly for testing software upgrades before they are released onto the physical production infrastructure. All new production units have digital twins and there is no programming in the production line. The programming is done up front and then testing is performed in virtual commissioning and only after testing has been completed are upgrades made in an existing or new line. Michael concludes by saying "During the lifecycle of an existing production line, updates must be done for firmware upgrades, functional software upgrades and patch management for security."
We wish Michael, Carolin and the whole BMW Group well on their journey of digitalization.