The Device Chronicle interviews Dr Christian Liedtike, Principal Consultant, Kuka Robotics on the mission and strategy of the Open Industry 4.0 Alliance.
Christian begins by explaining that the Open Industry 4.0 Alliance was formed as one of the first in this field and grew out of a potential collaboration between two companies SAP and Kuka who wanted to do something more open and great. Trumpf and other founding members such as Beckhoff, Hilscher, Endress & Hauser, IFM joined in 2018 and 2019. Upon further investigation, these companies realized that the collaboration should be expanded broadly, and that actually stakeholders across the industry had their own specific insights and expertise to bring to the table and to help the collective do better. The Alliance was established to provide this missing linkage between all these expert stakeholders (The chart below shows the evolution of the membership of the alliance).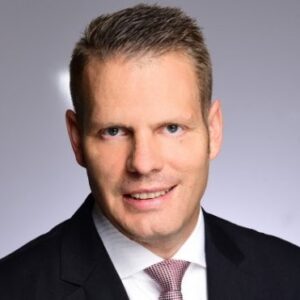 Addressing the brownfield environment with Industry 4.0
In a brownfield environment, everything on the shop floor is already established as the operational machinery, equipment and IT infrastructure is already in place. Christian explains that in this scenario, the biggest challenge is not to find a new use case in the context of industry 4.0, but rather "to align new technologies to what is already in place and then to get things implemented and growing." Christian explains that "You will want to do this in a heterogeneous environment where multiple vendors are involved."
In this industry 4.0 environment, it is also necessary to think ahead. The Alliance helps with this strategic need and provides a broader outlook for those managers of shop floors and to give them all the insights and decision support to improve their processes. Christian says that the Open Industry 4.0 Alliance is an "implementation-orientated alliance" and that the group looks to find those opportunities to share valuable expertise across sectors.This takes the Alliance to all kinds of different industries where there may be advanced differentiators: three could be a special expertise in one sector that is unique and could be very useful in another sector use case. For example, customers may have to consider a shop floor welding process and tooling in conjunction with temperature so climate control process and tooling also needs to be considered. "This is a different domain with different suppliers and the customer will want to converge bringing climate control data together with data from the welding equipment. This is a new interdisciplinary challenge that requires expert linkages to be established." Christian further explains that equipment is deployed in many different industry sectors and contexts, and it is essential to know what that equipment is doing so that it can be optimized further. Alliance member Kuka is building industrial robots, but does not have a large footprint in the process industry. Kuka experts still want to know what the status of that 10 year old robot in BASF is, as their customer may urgently need information from it and might need support from Kuka so different domains must work together.
Open Industry 4.0 Alliance Members
In Industry 4.0, often there is no certain problem to be solved to a defined methodology. Christian explains that the Industry 4.0 use case could be something like "We are trying to understand how to optimize energy efficiency and minimize energy loss in our plant. This is a cross disciplinary problem so where do you look? You need big data to find the great new potential opportunities."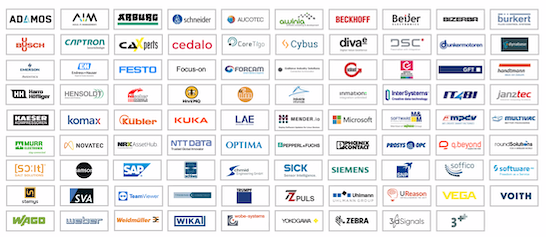 The members of the Open Industry 4.0 Alliance are software companies and machine builders. Christian explains that software companies want to come together with the hardware companies that provide the sensors and actuators, and offer smarter solutions. Christian says "As a machine builder the focus is tight, you know the customers and their needs. But the machine builder oftentimes doesn't know how to use data to enhance the infrastructure and this is where software partners are needed for data management. Collaboration through the Alliance can be easy as the members know each other and recognise each other's technologies. There is less harmonization lag times involved trying to understand where the different datas are stored or what protocols should be used. How the members can interact with each other is pre defined so the end customer saves time."
Finding knowledge for Industry 4.0 use cases
Christian points to another emerging challenge for customers. "Let's say you are a head of production, so you are focused on operations. You have little spare capacity for new special exploratory projects but then there is a request from your leader to look into a new industry 4.0 use case that they heard is impactful. Where do you start? You need access to an alliance of different expert suppliers working together. This is where the Open Industry 4.0 Alliance comes in. The great results are not in individual equipment performance, but where you can bring different equipment and technologies together and make a package that improves outcomes for the customers."
Using a common language
Christian explains that the Alliance members are working together in technology groups and connecting at the shop floor and bringing the data into another cloud system. "We can take data from sources from different vendors' model projects, and put it into one place and relate it to each other. You put all the pieces together using common standards such as OPC UA, then the next step is to add meaning to the data through things like time stamps. You also have to harmonize interfaces and different communication protocols, and find a common language that overrides the "dialects" from the verticals. Transferring information into standard semantics makes the data really useful. OPC UA conformed information is key.
Building business through openness
The Alliance creates business opportunities for new members as it brings openness and increased collaboration. Christian explains "The technical world means that you must be able to adjust to new conditions and serve many standards. You need to consider what kind of alliance meets your needs: if you believe in an open world then you need to be flexible and our alliance provides this benefit. You also need to adjust to all kinds of applications and we can help you focus on the implementation and the business development. Getting success in Industry 4.0 needs openness and collaboration. "Customers are not forced to go in a specific direction, we can talk to all, we have a connector for example to Siemens Mindsphere. This is a very promising way to build up business. This has been tested and proved. The Open Industry 4.0 Alliance has had the OI4 architecture tested and assessed by Casper Schou, Assistant Professor, Robotics and Automation Group, Department of Materials and Production at Aalborg University within the MADE Fast Programme . Work Package 3.7. MADE (Manufacturing Academy of Denmark) is a triple helix collaboration between the Danish government, industrial companies and academia to establish new technologies in all industry segments. Companies such as Danchell, Danfoss, KUKA, LEGO, Robot Nordic, Rockwool, Technicon, Terma, Universal Robots and VOLA are all participating in the MADE FAST project. Now, researchers at Aalborg University have used the open architecture of the Open Industry 4.0 Alliance to demonstrate how simple it is to connect the shopfloor to the cloud.
Visit the Open Industry 4.0 Alliance to learn more about becoming a member. Northern.tech and its OTA software updates solution Mender.io is a member of the alliance.
We wish Christian and the members of the Open Industry 4.0 Alliance well as they continue to help customers adapt to and embrace Industry 4.0.