The Device Chronicle interviews Stefan Schweiger, Head IoT/AI Solutions, at IoT consulting firm Bechtle on digital transformation and how IoT is adopted across industries.
Stefan has 25 years experience in machinery industry and logistics in the returnable transport packaging segment. Stefan comes to IoT consulting from within the manufacturing industry and not primarily from IT, and this gives him an advantage to understand the use cases and underserved needs of users in the manufacturing industry. His first contact with IoT was in 2016 when he was working with an Asian-based company that introduced an IoT sensor on a plastic packaging box manufacturing line. He saw first hand how IoT could help follow the flow of the product, know where the box is, pick up the temperature of the box. This created excitement for Stefan and data generation from IoT led into machine learning and AI, and extended into blockchain. Stefan believes that IoT, AI and blockchain interplay very well together.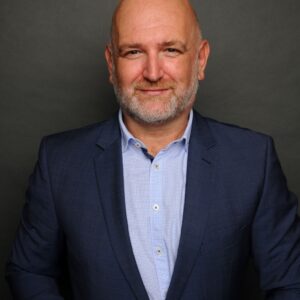 IoT consulting and use cases across retail, smart buildings, packaging & healthcare
Stefan now leads the IoT AI department at Bechtle. Bechtle is a leading international IT services, IT and IoT consulting firm. Everyday, he is encountering and solving interesting use cases requiring IoT.
Stefan explains that Bechtle wants to provide out of the box solutions but also to work as a general contractor to take away complexity for its customers. The company provides IoT services from use case consulting, scale planning, to sourcing and dispatching gateways and sensors worldwide, provisioning and servicing them, connecting them to cloud, as well providing analytics and connection to ERP systems (SAP and MS) if needed. Stefan continues to explain that the company also provides new business models for moving from CAPEX to OPEX. He says "We (Bechtle) actually transfer our IT know-how and resources towards IoT. This includes global logistics, managed services and much more. IoT is not only about software but there is loads of logistics behind. We know logistics from IT very well. I think this offer is unique in the IoT world."
Stefan is seeing some very intriguing projects in retail where owners want to have more insights into the browsing and purchasing behavior in the retail stores. Stefan explains "Cameras and sensors are used to gain these insights. On the other hand, it also concerns operational improvements, there is a push to optimize the store with temperature measurement and C02 measurement."
Stefan further explains that the healthcare sector requires digitalisation to meet regulatory requirements, and that IoT and AI helps in this regard. The smart building and smart campus is also an emerging segment post covid. "Property managers really want to understand occupancy, space usage patterns and traffic flow in buildings and the campus." Smart cities are another growth sector for IoT and AI where municipalities want to have more information about traffic flows, their bus and tram transport networks, and waste management.
Supply chain pressure requires IoT insights
As the supply chains come under pressure, companies also want to track the flow of products and so they need IoT consulting. Companies do not know where ordered components are, so they cannot plan properly. In the machine industry, we see that suppliers want to offer their customers an "added value" by providing them with remote services, predictive maintenance services and so on.
There is a strong demand for solutions that minimize carbon footprint and increase sustainability. Stefan explains that "If a company in the food industry has a temperature management system, then they can reduce food waste by 4 to 5% so this has a big impact on sustainability. At the end of the day, to better manage a process, you need greater transparency and with IoT you get this greater transparency and then you can start to optimize the processes."
Complexity of IoT projects
Stefan explains that for organizations just starting out with IoT, there is a considerable amount of complexity and so they need IoT consulting from experts. "They have to deal with sensors, connectivity, cloud, software management, and so on. The chain is quite long and there are different expertises required to manage it. You need the know-how, you need the people, and the resources to do it. Companies may have an IT department but not enough IoT expertise."
On the upside, the costs of the sensors and gateway hardware is coming down. Security guarantees are also a big topic, 99% of customers especially banks and hospitals will ask for this. They will also ask about scale, getting beyond a POC, and you need monitoring for the IoT project and many organizations do not want to spend resources on monitoring.
Also, Stefan says that one of the major challenges is that IoT gets sold "too technically." You need to explain to the people in the business what the impact and the ROI of the IoT investment is? What is the added value? Unfortunately, Stefan says, "on occasion in IoT there is no ROI, the value added delivered does not cover the cost of the project." So he advises that businesses really need to find the use cases that make sense "without it there is no cure from IoT." He continues "You must be able to understand and quantify the pains, then you can look at Solution A and Solution B, you can see that solution B with IoT could save money within 12 months, In most cases, IoT projects start because they are seen as "fancy, the next big thing", but then they may fail as there is no historical precedents within the business to help them project how successful this will or indeed how the measure whether the project is successful or not. Most times, these companies don't understand the real cost of the IoT project."
IoT use cases delivering real ROI
There are some incredible IoT ROI success stories: Stefan shares an example of a healthcare chain with €180million turnover and 2,000 staff. Stefan explains that this customer wanted to do temperature measurement of equipment but that it had to be done manually. He explains the administrative burden and cost "it had to be written down in 24 sites, and then transferred to administration who in turn had to put it into spreadsheets." A solution was developed by Bechtle to digitize the temperature measurement across 24 sites in a unit where there were only 4 IT staff. Medicines need to be stored under specific conditions, air supply considerations, and must be stored under a temperature of 25c. These are smart refrigerators and smart medical cabinets. The sensors, gateways and platform were implemented by Bechtle and the calculated ROI is after 1 year. A LORA sensor is used, the battery only needs to be changed every 10 years. From the perspective of ROI, Bechtle has helped the customer save 16,800 hours in 12 months by implementing this IoT monitoring solution.
Instead of temperature loggers that had to be disposed of every year, they got sensors that would last for 10 years. Furthermore, every 5 minutes the sensors are now transferring data into one central solution, and this can be audited for regulatory compliance, so the authorities get digital information on compliance, so the auditors have to do less work. Stefan adds that there are an estimated 12,000 customers related to healthcare that can use this solution.
Stefan also explains that there are more complex edge computing cases where you have AI-enabled cameras, and higher data throughput. The target for Bechtle is to offer out of the box solutions as often it is too complex for the customers to develop it themselves. For example, there is a use case where a camera and scale is combined to take a weight and picture of a package, so its dimensions, metadata and location can be transferred to an ERP system to help track the package across the supply chain. This is actually IoT as a service or even "Information as a service." Hardware is mostly a CAPEX, but now businesses want the IoT project as an OPEX on their financial books, to document it as a service."
Embedded Linux and OTA software updates
Stefan concludes by saying that in the majority of cases, gateways have a Linux OS on there. "Gateways have complex components and so you need a management system. You need to have management software for patching IoT devices specifically. You need to be able to update edge devices on a Linux system. The edge gateway must be managed otherwise it will not run, you can have 1000s of sensors but you need to ensure that the gateway works, and Mender OTA software updates was recommended by Microsoft for servicing the edge devices with OTA software updates."
There will be a big increase in edge devices where the volume of AI cameras and other advanced devices proliferate in the use cases.
We wish Stefan and his colleagues in IoT consulting at Bechtle well as they continue to help organizations adopt IoT and AI-based solutions.