The Device Chronicle interviews Dr. Giorgos Georgiadis, Group R&D Director, KLEEMANN on how his R&D team is building IoT and smart elevators.
KLEEMANN is a leader in smart elevator technology. It is one of the most important lift manufacturers in the European and global markets, just won a major prize in the Manufacturing Excellence Awards of the Greek Industry. In the category of innovation products, its innovative PED (Passenger Emergency Detection System) won the gold medal, while its ISE (Information on Safe Environment) won the silver medal in the category of innovation and creativity. The company's strong innovation efforts under the leadership of Dr. Giorgos Georgiadis are bearing fruit.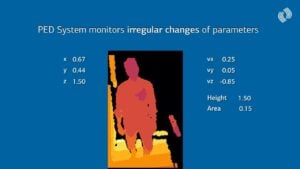 ​​Dr. Georgiadis and his R&D team started 12 months ago on their digital journey "Creating our own future" under the Digital Dome strategy by building an infrastructure in order to develop new services and smart functions. The primary driver of the program is to increase the quality of services offered to B2B customers. In particular, smart functions that are patent pending and are giving a new perspective to the IoT concept. Such examples include improved monitoring, smart metrics for various elevator parameters, passenger emergency detection and information on safe environment.
Dr Georgiadis explains how this leading company in elevators and moving walkway solutions approaches product innovation and leverages IoT and AI technologies to help address B2B customer challenges and new opportunities to improve passenger experience in the sector.
Observe, analyse and react in smart elevator technology
He begins the interview by explaining that KLEEMANN's engineering concept is based on observing, analyzing and reacting to the market and customer's desired outcomes accordingly. He says "At KLEEMANN, we want to develop based on this sequential pattern. IoT gives us completely new opportunities because we can observe, analyze and react in unprecedented ways. And, as I see it, the whole situation resembles the introduction of the software to the desktop in the 1980's. It was something which nobody could predict how it would expand. This is the case right now with regards to IoT and AI. The possibilities will become limitless from now on. We are going to witness things that we have never seen before in the technological field in all aspects. "
Dr. Georgiadis believes there are three pillars now: digitization, remote management and artificial intelligence. He believes that these three entities are interdependent and pulling together as one joint entity, which is highly transformative for the elevator and moving walkways industry.
New world of opportunities from IoT and AI
Dr Georgiadis also believes that IoT and the whole digitization of the industrial world will provide new opportunities for growth that are shaping their product development strategies accordingly. The KLEEMANN R&D team developed in house their IoT hardware and IoT portal. They have created new smart functions including passenger emergency detection, and information on a safe environment "At the same time, we are working on predictive maintenance to serve our B2B customers' needs. We aim at developing some hybrid systems which can bridge the differences between supervised and unsupervised models."
R&D strategy
Dr. Georgiadis puts a strong strategic emphasis on the KLEEMANN R&D team developing and using their own Intellectual Property to attain competitive advantage. He says: "We have already applied for patents relating to the smart functions. Our R&D team highlights the importance of Intellectual Property policies."
KLEEMANN is a multinational company. Its sales network operates in over 100 countries, with local commercial presence in important markets including the UK, France, Germany, Australia, plus, local production facilities in Greece as well as in Serbia and China. Two assembly plants also operate in Turkey and Russia. This is a major advantage, as it gives the Group the opportunity to distribute its products and establish pockets of innovation and potential partners across the world. And this is what Dr. Georgiadis and his colleagues are implementing now. "We started one year ago, now we are doing a series of field tests all over the world and we have good feedback so that we know what the next stage will look like and where we have to improve". Dr. Georgiadis adds "We see what the market needs, what the B2B customer needs, and apply innovation to address these demands. We try to predict where things will be in the future and start building them today.
Dr. Georgiadis believes all vendors in the elevator industry are following similar approaches. He says: "The industry transforms to the so-called smart industry, where everybody is participating in this transformation. At KLEEMANN, we have a lot of ambition to deliver great results in this field. We have the advantage of being an energetic and young R&D team with diverse backgrounds, which results in disruptive thinking. This is very important for our B2B customers. "
IoT and cloud infrastructure
Dr. Georgiadis says that KLEEMANN R&D team develops its own hardware, such as the electronic boards for the IoT gateway and the IoT portal. Regarding the security issues, they are using state of the art communication protocols between the hardware with authorized access and encrypting KLEEMANN's information in order to avoid any possible cyberthreats.
Security is not just a matter of deliberate malice for Dr. Georgiadis. It can also involve accidental human error. It gets very challenging when you are accessing an elevator in a faraway, remote location and you must ensure that everything is under control. We must ensure that customers will have secure access to continuously evolving services and new smart functions to come everywhere in the world.
With regards to IoT device management and OTA software updating, Dr. Georgiadis says his team is in the process of implementing these technologies. They have a specific way for proceeding with upgrades and regarding OTA software updates, they are currently investigating the best approach to the benefit of B2B customers.
Build or partner?
KLEEMANN builds in-house, but they also partner if it makes sense. Dr. Georgiadis says "Now we are cooperating with key external partners – universities, research centers, and also other commercial partners – and we are thinking that we will enforce and enhance this effort more from now on."
Dr. Georgiadis' team decides whether developing something in-house will add greater value. He concludes "I believe everything is about how much you're going to spend and how much you have to mobilize. And if, for example, partner A can provide to us this thing in half of our effort then the smart move is to collaborate. If something will create added value, and it will be proprietary value, then I would say we should develop it in-house, because we can re-use it again. We cannot become experts in every field. It's better to become experts where we can receive added value and where this will differentiate our products from competition."
We wish Dr Georgiadis and his R&D group at KLEEMANN well as they continue on their journey of innovation in elevators.