The Device Chronicle speaks to Markus Jakobsson, Chief Business Officer, Connectivity Business Unit, Unikie, about building groundbreaking services for connected use cases across automotive, medical devices and industrial manufacturing.
Unikie is a Finnish forerunner in intelligent, real-time decision-making applications for vehicles, cars and industry. The Tampere-headquartered company develops technology that collects, combines and analyses sensor and other IoT data using secure connections, creating environments with constant situational awareness. These environments can be augmented with machine learning based steering and decision-making, and then connected to enterprise systems. Additionally, it offers consultation for developing customer-specific solutions.
Unikie's technology enables the combination of data from different sources and deriving information from this data. This information is then used in decision-making to enable real-time steering of devices and processes. With the help of artificial intelligence, technology makes it possible to, for example, remotely steer and park a car without a driver.
As to industrial process lines, Unikie's technology enables constant, monitored steering of the process line. Its technology is developed to unite people, processes, and vehicles safely, and in real time, using AI. Secure data traffic is one of its core areas of product development. "When a large amount of sensor data is connected over a data communications network, one must also create opportunities for secure data transfer. The integrity and reliability of network traffic are absolute necessities", says Markus.
Unikie's technology is designed to enable its customers to become digital leaders in their own industries. The company works with the world's leading companies including BMW, Ford, Valmet, Ericsson, Ponsse, Sandvik and many more.
Getting devices connected
Unikie has just announced a new partnership with Mender. Specifically, Mender helps Unikie's end customers to put the key parts of device lifecycle management in place more quickly.
Device lifecycle management encompasses provisioning and deployment of software updates, device configuration & troubleshooting, and remote management.
Markus explains that the main challenge is getting the devices connected and the data collected in the context of both the customer's use case and the physical settings for that use case.
Markus further explains that the challenge of data collection and connectivity can also vary depending on the segment involved:
In the Automotive segment, there are fleets of devices that must be connected. These fleets are distributed across different geographies and different types of connectivity have to be combined to get these devices online. The configuration required to manage this heterogeneous environment must also be worked out.
In the Industrial segment, the focus is often on the logistics chain, monitoring and analyzing operational processes to see how they are performing by gathering data in real time. Markus says "The key question is what can you do with all the data from the logistics line? Machine learning is used to deduct what is happening leading to greater efficiency and reduced costs. With a waste treatment facility, the waste being processed can be calculated based on data extracted from movement and weight being exerted on the belt engines. In this case, there is no need to install expensive new sensors to make the same calculation.
In the Telecoms segment, it is usual for the operators to provide connectivity to end customers. Markus explains that "a service company like Unikie steps in to hook up solutions to manage the connectivity and to help the operator's end customers to quickly build up their connected products."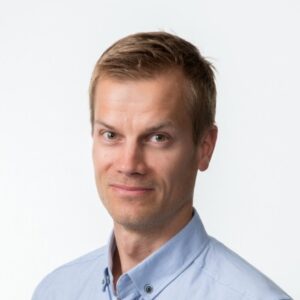 Introducing Unikie's Smart Spaces concept
Earlier in 2022 Unikie introduced Smart Spaces. A Smart Space is a solution, which utilizes machine learning, machine vision, sensor fusion, and digital twin technologies. It creates an environment with constant awareness, which can be further augmented into an autonomous ecosystem. Unikie's solutions support fully autonomous operations in closed spaces including ports, airports, industrial yards, logistical hubs, warehouses, mines, etc. These spaces are facing constant issues with lack of visibility on location and position, and the status of machines, vehicles, cargo, etc. All of this causes challenges for both efficient short and long-term planning as well as daily operations.
Unikie's Smart Spaces provide full real-time situational awareness. This intelligent awareness allows for an efficient and cost-effective framework for enabling autonomous control of vehicles, machines, and processes in closed areas. "There is a lot of hype around autonomous mobility on highways," which, Markus explains, is still a "distant reality in global scale." However, he continues to say that "Unikie is able to deliver full autonomous mobility in closed areas, which is a killer application in the vehicle mobility space." Unikie can use the autonomy in the vehicles to move them without the need for drivers in the factory. This saves on driver costs, reduces the risk of accidents occurring; and saves on wear and tear on the vehicle when the drivers jump in and out. This Automated Vehicle Marshaling solution, which is one application of Unikie Smart Spaces, enables automated mobility in a closed area or space. The solution relies on four key technological pillars: Mapping of Physical Environments, Digital Twin, AI Vision, and Vehicle Mission Control. AI Vision delivers comprehensive awareness of an operational environment, and Vehicle Mission Control enables autonomous driving of the vehicles remotely without any human operator in the car. This application drastically reduces costs, increases efficiency, and enhances operational reliability in closed areas such as automotive factories, logistics centers, bus depots, valet parking, etc.
Unikie has also introduced ways to utilize Unikie Smart Spaces in industrial settings to help with operational efficiency. The digital solution brings "awareness" to a factory, logistic chain or mine. Markus says this awareness informs "what is happening in that environment and enables control based on this. The data from the sensors is extracted and it is possible to deduce what will happen next. These insights can then be used to automate processes and increase efficiency." A smart space is an intelligent environment where processes and operations are actively monitored to create real-time situational awareness. This awareness is constantly updated with new data and information and supported with Machine Learning based prediction on what will happen in the future. This allows key questions to be answered such as:
What is happening?

Why is it happening?

What will happen next?
And then for the right actions to be taken in real-time.
OTA software updates and device management
As mentioned above, Unikie has partnered with Mender. Markus explains that Unikie is looking for the best of breed solutions to enable Smart Spaces. Mender is such an application. Unikie is a service provider that brings all the elements together for an integration so that the end customer can put the following device management processes in place more quickly. These cover the deployment of software updates, a process for device configuration and management. In the end, this has the overall effect of helping the end customer to get their connected product out to the market more quickly. Markus concludes by saying that "the end customers want to make their products connected and to gather the data to get key insights to inform decision making. OTA software updates and device management is essential as part of this process of machine data collection, transfer and analysis."
We wish Markus and his colleagues at Unikie well as they help their customers to get their products connected and to realize value from their machine data.