The Device Chronicle interviews Anne Marie Johlie, Head of IoT at Parker Hannifin on mobile controllers, vehicle control systems and diagnostics, and OTA software updates.
Parker Hannifin is a global Fortune 250 corporation specializing in motion and control technologies. Anne starts the interview by explaining her background and experience with digital transformation and enterprise IoT projects.
Anne Marie has been leading the IoT strategy at Parker Hannifin for 18 months at this point and before that she worked immediately with 5G deployments involving the roll of about 10,000 small cells around the planet. Prior to that, Anne Marie enjoyed a long and distinguished career at Motorola where she gained extensive experience in network management and systems which is the antecedent of IoT. There, she worked on 2 way radio systems, device discovery and management of all the device infrastructure in the network. Anne has an academic background and training in electrical engineering and computer science.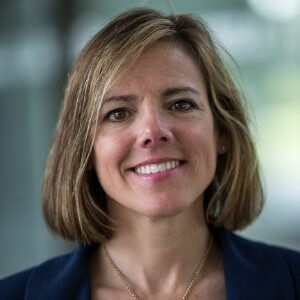 From network management to IoT and mobile controllers
Anne Marie's vast knowledge of telecoms and network management brought her into the IoT world and mobile controllers, it was a logical progression as IoT and network management are interoperable concepts. Anne Marie stresses "IoT really is network management, Internet of Things is fault diagnosis and machine config, performance data and security. It is the management of remote devices."
At Motorola, Anne Marie saw the evolution from circuit switch to packet switched network by making all the devices in the network IP addressable in the network and that when we started using Simple Network Management Protocol (SNMP) to make them communicable. The simple network management alliance implemented a device standard called the Agent standards to allow the devices to communicate with the network. This was back in the 90s and then built broader networks using switches to interconnect the sub systems. The digital transformation was to connect the devices to the network using a simple protocol.
Anne Marie then worked on a digital transformation for an implementation of the dispatch call center for 911 call centers for police and fire systems; the dispatchers would interface with state and local databases via APIs. These databases included license plate data, most wanted lists, all of that provides the rich data to the police officers in seconds. Furthermore, new technologies from start ups would be integrated along the way to improve the system.
Device integration into the network at Parker Hannifin
Anne Marie explains that the challenge at Parker Hannifin is to get devices that are not what she describes as "native speakers" in the network to communicate with the network. This could be a pump, a valve or even a sensor that monitors temperature, pressure or fluid flow on a component in a network in an off road vehicle. These vehicles could be mining trucks, milk delivery, garbage trucks, with big machines that have complicated systems that do work such as lifting or handling gas.
Need for performance insights from machinery and mobile controllers
Anne Marie further explains that these systems are strategically very important for Parker Hannifin's customers. Anne explains that the customers want to know a vehicle's precise location at any given time as it lives in the wild. These machines need to be able to speak to a fleet manager: if it is broken down where is the machine? Is the device performing optimally? You might even want to compare this machine to others? What makes this machine different? Is it temperature, pressure, you may want to perform full diagnostics on the machine or get performance information to diagnose what is going bad or good on that system.
Importance of OTA software updates in mobile controllers
Parker Hannifin's customers want OTA firmware updates, for in a scenario let's say where the vehicles that live far away and do not come back to the shop at night, firmware and applications must be updated remotely. Anne Marie explains that some of the big projects at Parker Hannifin for OTA software updates involve a specific mobile controller that manages the whole machine, and also a next generation mobile controller that is currently being developed. "There is a need to be able to push both firmware and application software at the same time, and motor controllers are also being launched which monitor and manage a specific high value work function on the truck. An example from a material handling vehicle is the large pick up cargo handler: Anne Marie explains that you need to know how the handler is working as they are fully electrified. You will be checking battery usage, fuel usage saved, C02 emissions reduced.
In the mobile network, everything lives on a BUS system, the J1939 with a CANBUS. Parker is currently building a home grown software update mechanism for a new mobile controller that is coming out. Anne says "For the current controller that we do OTA updates for, the technology is really in the controller because we provide the terminal through our application and all the sophistication around the OTA updates and security is handled by the hardware provider. But there is a migration for the next generation controllers to Linux-based systems."
In Parker Hannifin's context, Anne explains, the devices don't necessarily have IP addresses. The Parker Hannifin tracking system's proposal is to use the PTS identifier for the products that include pumps, valves, actuators, accumulators and sensors. There are a wide variety of components that go into subsystems, so Parker doesn't necessarily build the systems but provides the things that go into those systems which could include mining machines, material handling machines in agriculture in the category that is described as "mobile IoT." The computing is done on the edge in the gateway and Nvidia GPUs are used for edge processing. Parker Hannifin's IoT platform is based on Azure.
Anne explains that not all machines on the network will take OTA updates. She says that most of the functionality that the team is developing is to make a device identifiable on a network, so that on a base level we get data and diagnostic information and put it together with other information about the machine and put it together in time series data to build machine learning algorithms. This ML will serve predictive maintenance use cases. We also want to integrate Parker components into the Parker IoT platform. The team is also developing new customer-focussed services with partners such as Cummins Engine to integrate their diagnostics into one IoT platform. "Customers buy Cummins engines and Parker Hannifin actuators and sensors so it makes sense to have all the information that enables decision support about this machinery come through "a single pane of glass" for monitoring their subsystems." Parker Hannifin has also partnered with a customer and a specialist called Camgian to help build algorithms for predictive analytics.
We wish Anne Marie and her colleagues at Parker Hannifin well as they add more systems to the network and IoT platform and derive greater business value based on the insights from the data.