The Device Chronicle interviews Peri Subramanya, Principal Engineer at Bayer Crop Science. Peri has pioneered Bayer Crop Science's use of enterprise IoT in smart farming since 2017.
Bayer Crop Science focuses on digital farming systems, seeds & traits, crop protection, climate change and building an R&D innovation pipeline to help shape the future of agriculture.
At Bayer Crop Science Peri is an IoT technology expert working on cross-functional initiatives. He has led the enterprise IoT platform at Bayer Crop Science with a focus on enabling IoT and industrial IoT workflows in smart farming to help maximize efficiency, throughput and revenue in domains ranging from breeding and research to global supply chain. Previously Peri worked at AWS. There, he built up their Industrial IoT product offering AWS Sitewise and implemented it across 9 North America production plants to measure OEE (Overall Equipment Effectiveness). Peri is also a noted speaker/panelist on Industry 4.0 and IoT in smart agriculture.
Evolution of IoT in smart farming at Bayer Crop Science
Peri begins this interview by saying that as a means to get machine data, IoT has become a must have at Bayer Crop Science. Peri reflects that as far back as 2015, IoT was seen as a "nice to have".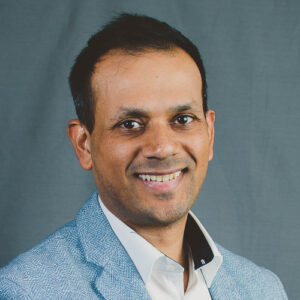 Device management for Bayer Crop Science is now a balance of build and buy. There are 2 streams to this: one is for in-house custom hardware and the other is vendor-provided services. In 2017, when Peri was laying out the IoT strategy he took the approach to go with AWS IoT Core and AWS IoT Greengrass for pushing updates to custom hardware such as gateways for collecting data from agricultural equipment in the field such as harvesters.
The other stream of IoT device management is the vendor-managed device solutions and these tend to be more highly constrained devices operating at scale including GPS trackers, or sensors that are used to track movement of goods by trucks from field to facility such as corn and other agricultural foodstuffs. These tend to be off the shelf sensors and do not require any internal development from Bayer embedded systems teams.
Data flows to inform business decision making in smart farming
The experience from implementing the enterprise IoT strategy at a broad level has been about developing a clear vision on how the data should flow both in the custom space and the more generic space from vendors or our own leveraging technologies from providers such as AWS. If you go deeper, it is about looking at updating and orchestrating the devices from the cloud, such as using the shadow of the device in the cloud (AWS Device Shadows) to schedule updates to control the device behavior in certain ways.
In the supply chain, Bayer has implemented a digital twin in which information from different sources is tracked such as from SAP, MES systems on the production shop floor in the plant; or raw data from the trucks in the field and in transit.
Use cases for IoT in smart farming
The main use cases at Bayer Crop Science are as follows:
1. Data collection from the field
This involves collecting data on planting and harvesting. Bayer Crop Science focuses on GMO crops which means that yields have to be guaranteed, the quality of the seed sold to farmers has to be of a high quality – and this all entails that a lot of data from the field has to be collected and analyzed. The edge infrastructure enables the collection from the combine harvesters and other machinery.
2. Development of the seed
The data collected informs how the seed should be optimally engineered based on real evidence from the field.
3. Prescriptive analytics
After the data has been collected and analyzed, Bayer Crop Science can prescribe to the farmers, based on certain environment and conditions, what are the best times for harvesting and things of this nature.
4. Informing performance metrics and OEE
This is in the shop floor environment where we use data to improve operational equipment efficiency and having KPIs to improve production performance – decreasing wastage and improving run times.
5. Drone surveillance
A further edge use case is the use of drones flying over the fields taking images and this image data needs to be processed, analyzed and modelled to figure out if there are any disease prone areas in the field – fields are large?
6. Logistics
This is the tracking of trucks to ensure that they deliver their loads in a timely manner, as the efficacy of the whole end to end supply chain depends on every moving part – harvesting in the field, processing in the plant and everything in between, if one point fails then there is a trickle down effect.
Custom Linux gateways
The custom gateways are mainly Ubuntu-based. AWS Greengrass and Sitewise are used for application updates and gateway management. One example in gateway management would be handheld mini fanless gateways used in production environments and run off ARM processors. The site gateways were Intel-based. Peri explains that an in-house engineering group within Bayer Crop Science looks after mass production of the gateways. "The embedded work is in house, but we partner where it makes sense." IoT has been close to Peri's heart and the team in-house moves fast. Managed vendors are used to put the devices on the trucks. So these could be in the regions such as Brazil. If the gateways are more custom and complex such as those that would be fitted to combine harvesters then this work is done internally by the Bayer Crop Science IoT and embedded team.
Device Lifecycle Management
Bayer Crop Science has a way to provision devices whereby the gateway device says go get that auth token for that gateway to bring it online. The device "self registers." There is a key embedded in the device that goes out, which it uses to authenticate itself and get the correct device certificates. This provisioning is managed centrally through a console in AWS for now. The device self registration happens on its own but the deprovisioning – in the case of rogue certificates – is done through an AWS management console. Peri says that some level of automation is needed when there are many hundreds of gateways going out from the factory and that need provisioning and management. He says "There cannot be one manual process to register and provision the device."
AWS IoT Core is used for device and application management and telemetry. Peri says through the partnership, "If there were gaps, AWS was able to prioritize Bayer's roadmap items. The ecosystem of device shadows and Greengrass works fine, there is efficiency but we still look to reduce steps to get to one step rather than 10."
Use case worth further exploration
Delta updates or the idea of just updating the delta of the software image to reduce bandwidth costs is a key generic case for wherever Bayer Crop Science has edge devices in remote areas and controlled environments. Automatic resumption of updates could also be important where trucks, combines and drones are moving. Peri says "The GPS tracking data is small but there may be a challenge where there is image data that should be compressed such as transferring data from a drone back to the base station. When a drone is flying over a field, it has machine learning algorithms on it for different types of disease detection. These models need to be updated on the fly. A new model might need to push on to the edge over the air. This would be a very valuable approach, let's make a quick update to the model on the drone on the fly." This, he concludes, is an area that could be explored further for future innovation and process improvement.
We wish Peri and his IoT and embedded engineering colleagues well in their advancement of the use of IoT device management technologies to help improve outcomes in agriculture.
Cover image courtesy of Freepik