The Device Chronicle spoke to Benedikt Rauscher, Leader for Global IoT/Industry 4.0 Projects, Pepperl + Fuchs, and Dr. Roland Aubauer, Head of R&D and Product Management at CAPTRON about the progress of an Open Industry 4.0 Alliance reference implementation project.
The Open Industry 4.0 Alliance (OI4) is focused on creating a standardized open and scalable system architecture on both the cloud and edge levels to enable Industrial IoT. Within this framework, different vendors work together to create cross vendor data spaces that are characterized by common semantics, open APIs, common mechanisms for data sovereignty and security management, certified services and ad hoc contracts.
The Intralogistics Project
A reference implementation of the OI4 architecture is the project "Digitalization of Intralogistics Processes" at CAPTRON. Roland begins by describing the strategic objective of the project: "We are looking to achieve throughput and efficiency optimizations through the whole intralogistics process. This is about efficiency improvements (path and space optimization) and about error reduction in the provision of materials to workers in a production process, or in an e-commerce fulfilment warehouse. With this project, we want to prove that we can provide this value-add to customers from a multiple-vendor approach. Typically, before Industry 4.0, these vendors did not work together on projects but now this has changed."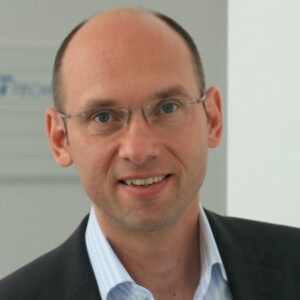 Target audience is SMEs
Benedikt says the project is "special" as it targets SMEs. They usually use components from many different manufacturers which have to be combined to work together. "Those companies are often on a low level of automation and do not use MES systems and there is likely a need for external advice and support as they embrace digitalization of their paper based processes."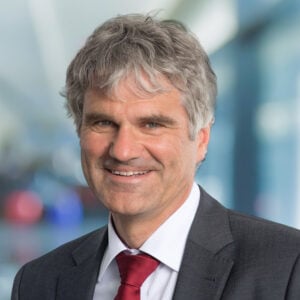 Project partners
The project is a collaboration between Bizerba, CAPTRON, Fujitsu and Pepperl + Fuchs and aims to digitalize and optimize the intra logistical processes of small to medium sized enterprises end to end with open technologies and standards. To showcase its capabilities an OI4 reference implementation has been created at CAPTRON's manufacturing site in Olching, Munich, Germany.
The different partners in the project bring different types of expertise to the table:
Bizerba's smart scales would enable material flow processes to be checked for accuracy and reported during provisioning and picking. In this way, Bizerba can contribute to error prevention in production and material flow processes.
Fujitsu provides process consulting and live analyses to a very granular level. This enables optimization potential to be uncovered and flexible, scalable processes to be implemented as a result.
CAPTRON's human machine interface components (smart touch buttons, LED bars) and the oneGRID warehouse management software helps to bring greater efficiencies to the picking processes and these improvements can be measured in increased time savings and throughput, and reduced space use, costs, errors in the manufacturing processes of small and medium-sized companies.
Pepperl + Fuchs's expertise, hardware and software tools helps to continuously optimize material flow with its Neoception e-Kanban product and software services for provisioning process integration and analysis; and its comprehensive portfolio of sensors and components for industrial communication that help with optimization and data generation.
Application focus
The application focus for the project covers a range of shop floor equipment and processes – from picking and packing stations, intelligent transport carts, material supermarkets, material warehouses to hardware (sensors, touch buttons, signalling lights, IT infrastructure), software, integration services and process consulting.
The Open Industry 4.0 edge and cloud architecture with standardized data syntax is applied in the project. The project seeks to achieve increased throughput due to process-optimized and guided operation, a minimization of errors, an increase in delivery reliability; storage space reduction by avoiding intermediate storages; and reduced capital of production materials. It also seeks to enable fast onboarding of new sensors and devices, materials and workers in the customer's brownfield environment, and to create a durable, scalable and future-proof system, and intelligent data analysis and transparency with support from the provision of accurate data.
The project "Digitalization of intralogistics processes" has some unique and very attractive characteristics which make it appealing to small and medium-sized manufacturers looking for efficiency gains and cost reduction in their processes. These include its use of light-guided (pick-by-light) processes and ergonomic work with touch operation. It is also a modular open system for fast and scalable implementation in the existing non-digital processes of the customers.
Status of the project
The project is in the set up phase running since the beginning of 2022. Roland explains "The first systems of the CAPTRON backbone are up and running. This software is built according to the OI4 edge and cloud standards." In the coming weeks, the Neoception tool from Pepperl + Fuchs will be integrated followed by the Bizerba scales solution. The group has had a workshop to plan all the partnership collaborations out. The CAPTRON system will be fully up and running by Autumn this year, Benedikt and Roland estimate.
Success for the project
Roland and Benedikt conclude that success for the project looks like finding customers who want to migrate from paper based processes to digitalized one. Roland says "The market has great potential with 10s of thousands of companies in Germany alone who would be suitable for this solution."
We wish Benedikt, Roland and the whole Intralogistics team success in this project.