The Device Chronicle interviewed Lukas Exel, Energy Services and IoT Manager at beegy. Lukas is responsible for the development of an in-house IoT-solution based on open source frameworks and tools. Lukas shares his perspectives on the key trends and challenges in IoT in energy management in the German market.
Lukas starts the discussion on IoT in energy management in the German market with the observation that the German energy system "is probably the most complex system that mankind has ever created! But the most decisive factor is certainly how we understand the overall system and its purpose." Lukas takes it back to basics by explaining that the conventional definition of the energy system is that it is a process chain from the extraction of primary energy to the use of final energy to supply services and goods. "In truth, no one sets out with a goal to get 1 litre of gasoline, or 1kWh of electricity, they are looking in fact for improved mobility, thermal comfort and optimal brightness. And even these needs change. It is not always the need for mobility that needs to be satisfied, but often the need for a meeting. New business models emerge and continue to emerge that succeed in satisfying a need without relying on fossil fuels."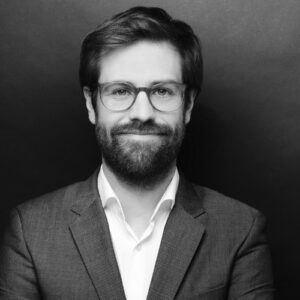 Intelligent energy solutions and IoT in energy management
beegy provides solutions that intelligently network the energy solutions in the home so that energy usage can be managed more conveniently. The company focuses specifically on the homeowner with a PV system, battery storage, electric car and a system providing thermal comfort such as a heat pump or a fuel cell. And this is where Lukas sees great changes. Electric batteries and electric vehicles are finally ready for the market. There are subsidies from the German state and many households see the need to actively contribute to the energy transition. And Lukas highlights another point where beegy generates financial value for the customer. "Self-generated electricity is significantly cheaper than electricity that is bought in from the supplier. The main task for beegy to solve is twofold: First, to plan and install an optimal energy system based on the customer's wishes, their energy consumption behavior and the individual boundary conditions on site. Second, to operate the local energy system in an optimal manner. To charge the car when energy is available and to schedule the battery to increase self-sufficiency."
IoT in energy management and the business and service models
Lukas goes on to describe the different types of business models and service models that pivot off the implementation of edge devices, sensors and IoT platforms. For Lukas, at the core of this is the optimal operation of the local energy system that needs to be solved with an IoT/edge Devices and optimization models. There is also a whole range of "real world" problems that need to be solved and where an edge device is important for the customer.
The customer ultimately expects their system to function just as reliably as the public power system. Yet you have to bear in mind that public power systems have multiple redundancies built in to cover the failure of a single device so the reality, in terms of equal reliability, is that it is not always quite the same. Components like inverters, charging stations and batteries can fail, the software might be buggy, and with many device manufacturers, updates can often only be installed locally on the devices. Lukas says beegy has services now to address this pain for the customer. Lukas explains "We monitor the function, fix problems and in the worst case we take care of the replacement of the equipment."
IoT in energy management and OTA software updates
beegy focuses very much on the individual customer and on all the considerations regarding the optimal operation of the local energy system. Other actors in the ecosystem such as the network operators have played a different role so far. For Lukas, this "ecosystem inertia" has to do with slow development of the electricity system in Germany in recent years. The regulatory framework and the adaptation of the processes for operating the electricity system has only been developing at a slow pace. Lukas says "Ultimately, there is no way to make the flexibility of a residential energy system available to other actors such as the grid so that, for example, you can avoid grid expansion. There is no possibility yet to implement local electricity markets so that one household can sell their electricity to their neighbor reflecting lower grid fees and taxes. But this is precisely why OTA software updates in smart energy digital solutions are so strategically important, as they allow a provider to be prepared for "still unclear" developments and deliver supporting functionality for new developments after the device has been sent into the field."
IoT in energy management and optimization
The next major challenge for beegy is to strengthen the link between electricity and heat by means of components that transform both forms of energy into one another – components such as heat pumps, fuel cells, PVT collectors, co-generation – and to exploit the potential that this offers. The task of an IoT device is not only to operate the system optimally. It is also about providing data on the basis of which we can learn what the optimal system looks like for a specific customer while ensuring privacy and data protection. For example, the optimal storage size differs greatly depending on consumption behavior.
Innovation in energy and IoT
There is great innovation at the cross section of IoT and the energy system. Smart markets provide flexibility for the grid, local energy markets where transactions are secured by a block chain. All these ideas have been developed, are mature and have been implemented in countless research projects in Germany and around the world. beegy has created a powerful innovation for sustainable energy use: its intelligent control system HERMINE charges the electric car with the self-produced solar power based on the user's preference. This maximizes self-consumption of homes with a photovoltaic system – for environmentally friendly, cost-effective and convenient charging at home. This control system brings real benefits for the household. The beegy team has calculated savings of up to €420 per year based on an average mileage of 20,000 Kms through the use of HERMINE. A few companies have succeeded in qualifying for the provision of primary control power via home storage. This means that they ensure that the grid frequency remains at 50Hertz. A task that is otherwise performed by conventional power plants. "This is technically a great achievement, but the market volume here is still very small."
Challenges in IoT projects for energy
Lukas also examines the most challenging areas technically within device management in IoT projects. He says there are "many challenges, but none of the challenges are more difficult than the others. It concerns bringing different engineering disciplines together and handling complex interdependencies. There are many aspects that have the possibility of breaking the system or functionality." Lukas adds "Bidirectional communication with the components such as PV-inverters is not rocket science either, but unfortunately there are hardly any or only insufficient standards and important aspects such as secure communication and authorization are treated poorly. One reason for this is that the protocols used, such as Modbus TCP, have their origins in the industry sectors and thus were designed for isolated networks. Now these devices are connected to the LAN of a household which has a public Internet connection. The beegy gateway ensures that the network with all the energy components is air gapped from the public internet and the LAN of the household".
Robust and secure OTA software updates
beegy uses a robust and secure OTA update solution for the gateway based on Mender Enterprise. beegy made the strategic decision to invest in an open source-based IoT infrastructure. Lukas explains their reasoning: "The decisive point for us (beegy) was that we wanted to avoid dependence on a third party at all costs. We wanted 100% control over our own system and the possibility to adapt each part in case of doubt either by ourselves or by a third party. Otherwise the slogan: "Do not reinvent the wheel" says it all. The solutions for one's own problems typically exist. The challenge is to choose and orchestrate the right ones. There are additional aspects such as the security issues that are taken seriously. There is no security through obscurity. Open source is best for edge devices and Linux as a great ecosystem already exists in Yocto, Bitbake, Mender, BSP from hardware and can be leveraged for IoT projects."
Collaboration across the energy ecosystem
There are different types of organizations – corporates, small businesses, start-ups and municipalities – working together to reimagine the energy sector in Germany. On the one hand, there have been very large research projects in Germany in recent years, each involving over 50 partners from all these fields. There is also an increasing interest in large and medium-sized energy companies to actively contact start-ups. Large energy companies are not known for their innovative power, but they are slowly realizing that they will earn less or no money from selling energy in the future. This drives them more and more and since they themselves have hardly any development capacity of their own, they are looking for partners.
We wish Lukas and his colleagues at beegy well as they strive to improve the ways in which households can manage their energy consumption and make the move from fossil to green energy use more quickly.